Divelink hosts the Canadian
On-Line Store for:
Drass Underwater Technology

Please click on any product listing below to view:

Bail-Out First Stage Regulator

Camera for Commercial Diving

Communication with Unscrambler

Gas Analyzer

Harness for Diver

HYPERBARIC COMPONENTS

LED and Halogen Lighting

Personal Dive Gear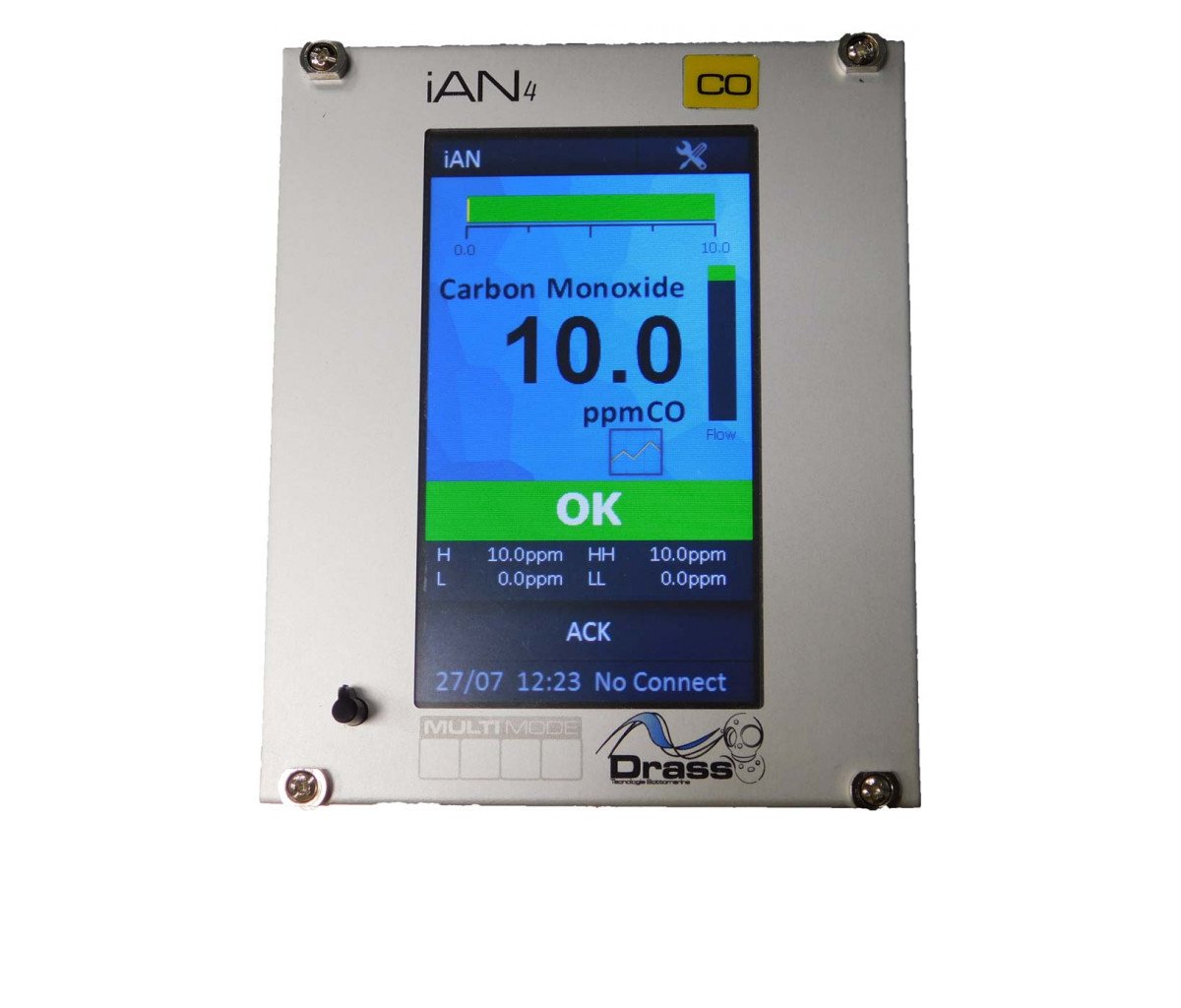 Gas Analyzer for Oxygen, Carbon Dioxide, Carbon Monoxide and Helium
The newly released Drass product: iAN GAS ANALYZER is specifically tailored to the saturation and surface diving industry and for application in the medical industry. This advanced solution provides our clients with both a superior measuring accuracy and a robust hardware that consists of a Display and Remote Sensor Box, and comes completed with an embedded flowmeter, meaning the external one is not necessary for the correct operation of the system.

The iAN GAS ANALYZER is designed to:

• Be highly modular and flexible so that it can be easily integrated into customized atmospheric monitoring solutions.

• Obtain a stable and reliable Oxygen, Carbon Dioxide, Carbon Monoxide and Helium reading with clear audible and visual alarms, to warn when potentially dangerous levels are reached.

• Require little or no maintenance activity, setting it apart from other gas analyzers on the market.
Remote Sensor Box:
The Remote Sensor Box included inside the analyzer set is the "heart" of the product containing all the sensing electronics: sensors for the selected gas, gas flow, temperature and barometric pressure.

With a reliable RS 485 interface, this allows the communication with the display and receives power from it – no additional power sources are required for its operation.

This small DIN bar mounted box can be conveniently installed close to the display or even at a few hundred meters distance.
Optional Extras:
• Configuration Kit - provided to update the iAN firmware and can be used to upload/download the analyzer parameters.

• Panel Mounting Kit - allows the panel mounting of the analyzer

• Rack Panel Mounting Kit - contains a rack panel already assembled with display (maximum four displays allowed) and relative remote board.
---
To further understand the full complement of options for this system, a table is provided here:
| | |
| --- | --- |
| COMMERCIAL CODE | DESCRIPTION |
| 97CD-01-04-01-00-00 | O2 iAN Analyzer for Heliox |
| 97CD-01-04-02-00-00 | CO2 iAN Analyzer for Heliox |
| 97CD-01-04-03-00-00 | CO iAN Analyzer for Heliox |
| 97CD-01-04-04-00-00 | He iAN Analyzer for Heliox |
| 97CD-01-04-05-00-00 | O2 iAN Analyzer for Nitrox |
| 97CD-01-04-06-00-00 | CO2 iAN Analyzer for Nitrox |
| 97CD-01-04-07-00-00 | CO iAN Analyzer for Nitrox |
| COMMERCIAL CODE | SPARE PARTS FOR DRASS iAN |
| 97CD-01-04-08-01-00 | Display MdP |
| 97CD-01-04-08-02-00 | Remote Board O2 |
| 97CD-01-04-08-03-00 | Remote Board CO2 |
| 97CD-01-04-08-04-00 | Remote Board CO |
| 97CD-01-04-08-05-00 | Remote Board He |
| 97CD-01-04-08-06-00 | Touchscreen stylus for display |
| COMMERCIAL CODE | OPTIONAL KITS |
| 97CD-01-04-09-01-00 | iAN - Configuration Kit |
| 97CD-01-04-09-02-00 | iAN - Panel Mounting Kit |
| 97CD-01-04-09-03-00 | iAN - Rack Panel Mounting Kit |